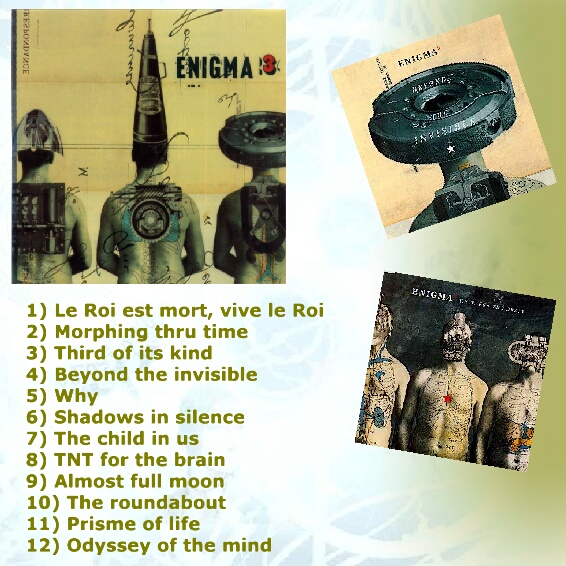 3ème album sortie en 1997. C'est "l'enfant"!. Sur cet album Michael Cretu Chante beaucoup plus.

Il marque le retour des chants grégoriens et des inspirations sensuels....

La pochette de l'album est très recherchée avec superposition de différents plans transparents en plastique.

Les deux clips réalisés sont très riches en particilier "Beyond the invisible " avec voyage dans une forêt magique et patinage artistique.

Music & lyrics by M. Cretu except 4, 9,10 lyrics by M Cretu & D Fairstein

Female voices: Sandra Cretu & Louisa Stanley

Guitars on "the child in us" Peter Cornelius

the rest M. Cretu

produced & engineered by Michael Cretu

Recorded at A R T Studios, Ibiza Spain

cover by Johann Zambryski, illustrations by Volker Strater
SAMPLES:
Gregoriani cantus/pierre Kaelin: 2: " Passer invenit" 4:"Rorate Caeli"; 5:"Exsurge,quare obdorminis, domine";
7: "puer natus est"; 11: "sanctus XVIII".
Lettonie- musiques des rites solaires by rasa ensemble riga
Vocal & instrumental music of Mongolia
Other influences:
On "Second chapter" the words "X ray delta one, this mission control, roger your one-niner"
are from the movie "2001 A space Odyssey"( S Kubrick)
On "morphing thru time": Deadzone "biological radio" (beginning spoken word s)
On "Child in us": CD ROM " Heart of Asia" /spectasonics label ( first voice)
On " TNT for the brain" : "War of the worlds" soundtrack ( introduction)
On "Prism of life": CD ROM "Heart of Africa"/spectasonics label (African choir).
All songs published by Enigma Songs/mambo music
SO THIS IS THE CHILD...
© Virgin CDVIR60-7243 8 42066 2 8 - PM527